ARTAVITA Gallery is based in Santa Barbara, California. The gallery showcases artworks by artists from around the world. "Memories to Cherish" was awarded an honourable mention in the 10th contest for the gallery in May, 2014.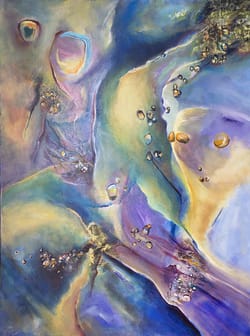 The painting was inspired by the swirling thoughts and feelings that memories stirred up in me. Realizing that there many ways to react to the past, the the way it impacts us in the present, I was reminded that framing these feelings in a positive light could warm my spirit and lead me into the energetic flow of peace and possibilities that lie ahead of me. Looking back, cherishing the memories for their gifts, allows me to glow and flow into the future.
This painting is mixed media on a gallery wrapped canvas measuring 40 x 30 inches and is available through Swoon Fine Arts Gallery in Hammonds Plains, NS.