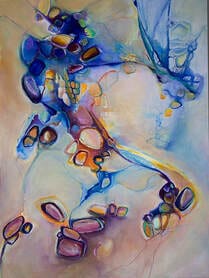 From time to time my artwork is rented for TV shows and movie shoots. It's always fun to imagine someone watching a show and seeing the artwork in the background. The work is rented through a gallery that represents me, then usually returned some time later for sale. 
This is painting is one of the works that was shown in a Christmas Special for 'This Hour Has 22 Minutes' a couple of years ago and it's now back in my studio. Because artists aren't told in advance when the gallery rents it out, I didn't know until I received messages from people across the country who recognized my style, people who follow me and collect my work. Imagine…they knew before I did! (smile) ​
---
​You can see that this painting represents my earlier, playfully graphic abstract style, as opposed to the layered paintings that I'm often creating these days. It's tempting to keep it, but my goal is to set the work free, to spread the creative energy into the world. But until it's out the door….
Will I keep it as is…or will I transform it into something else? If you're interested in this piece, catch me before I set my brushes and paint to work on this canvas! After all, it is titled "Becoming", so it might be destined to become a different painting altogether. 
LIVEN UP YOUR DECOR WITH THESE LIMITED EDITION PILLOW COVERS! 
18″X18″ – black zippered cotton cases with artwork printed on poly-satin. Just $28
Other artwork is also available. Send me a message to inquire about your favourite painting.