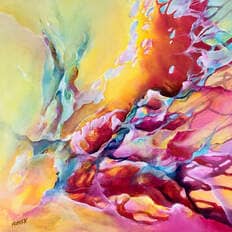 How does one become an artist? If you're not one of those who went to art school and followed the direct line to becoming a famous artist (how many of those exist?), then the journey is probably more convoluted.
​'Believe in yourself, and already, you have your first accomplishment.' I was 16 when I wrote that neatly in my diary. Then later: 'Be true to yourself, and the light will brighten the path you need to follow.' It took some time, some twists and turns to get here, but the path is pretty well illuminatedt these days.

When I was young, I thought I'd be a writer, live in Paris (how romantic!), travel the world and be an agent for change with my words or projects. I did travel, but then I came back and worked again so that I could feed my escapist habit. Travel, photography, writing and art making were always calling. I just had to find a way to support the habit.
---
​I've had a few careers in my life, but the longest lasting one was as a realtor in the Greater Toronto Area, working mostly in Brampton. That was before the heyday and frenzy that exists now. Although I loved helping people realize their dreams, it was a cutthroat business. I worked crazy hours and was stressed a lot of the time, but what it gave me was a means to an end. I could take months off to travel the world, to write, to create. That filled my soul for a time, until I had to come back and start the wheel spinning again. After many years on the rollercoaster, I stepped away and came to find the things that fill my soul. I had enough of the means and found my way to the end: life in Nova Scotia was tranquil and was the real beginning of my creative journey. 
I recently read two books that showed me what a difference it makes when we choose to follow our instincts and live authentically, pursuing that which fulfills our truest self, choosing compromises carefully. I read Gloria Steinem's "Life on the Road" and Michelle Obama's 'Becoming'. These two women listened to their intuition much sooner than I did. They accomplished – and are still accomplishing – great things in the world. They made decisions based on their personal ethics and morals, then followed through with their passion for inspiring change in the world. Their lives were no easier than mine as children, they had to grapple with plenty of challenges and obstacles, yet they rose above them and created the story of their lives. 
 
I am one of the lucky ones who have found a path to fulfilment. I live in this beautiful place, surrounded by kind, loving, talented and inspiring people. This time and place in my life brings out the best in me, and with that, I hope I can pass it forward and bring out the best in others through my art. My life as a realtor served its purpose and provided me with many opportunities. It was a steppingstone across the river, a completely different, wholly rewarding life. I certainly hope that I'm nowhere near the 'end' of the journey. There's still a lot of growth to come, and most likely a few twists in my creative progress. When I recognize the fork in the road, I'll let you in on the discovery. (wink – wink)
 
Until then, I hope that you enjoy the paintings here on my website. Check out the Abstract paintings and the Sea and Land (mostly sea!) paintings and let me know what you think. Perhaps you'll even be inspired to put one of these joy-infused works into your own home. I would be honoured if you helped me spread the love I pour into them. 
 
Have a joyful summer. Get outside in the sunshine. Be safe and remember that the little sacrifices we make today will make the world of difference to us all in the future. ​
Gloria Steinem: "Writer, activist, organizer, and inspiring leader—now tells a story she has never told before, a candid account of her life as a traveler, a listener, and a catalyst for change." A long list of career awards and recognitions spans decades. Her accomplishments have created positive change and inspiration for millions.
 
Michelle Obama: "With unerring honesty and lively wit, she describes her triumphs and her disappointments, both public and private, telling her full story as she has lived it—in her own words and on her own terms. Warm, wise, and revelatory, Becoming is the deeply personal reckoning of a woman of soul and substance who has steadily defied expectations—and whose story inspires us to do the same."