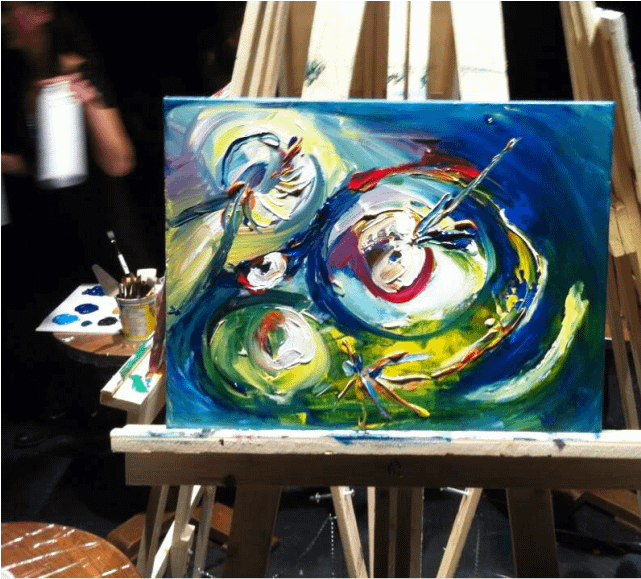 What incredible energy there was at the Bus Stop Theatre on March 22nd when 12 artists squared off against each other in a live painting 'battle' for the next round on June 22nd. 
For the two weeks prior to this event, I was totally stressed. I don't do 20 minute paintings. Or rather, I didn't do 20 minute paintings, until this day. It has opened up so many challenges to me. I'm hooked now. I need these creative exercises to loosen up. I love it and recommend it to any artist, whether competing at the event or working in their own studio.
Here's the concept. Twelve artists in 3 rounds.
Sarah Jane Conklin
Tom Smith
Ingrid Singing Grass
Barbara O'Neil
Collin Reynolds
Fab Leydecker
Maria Rose Sikyea
Monika Wright
Karine Lahaie
Dustin Peterson
Desmond Dineen
Corey Strong
The first 4 easels are set up in the middle of the room. Paint and canvas are supplied, so you don't have a chance to use your usual colour palette, unless of course it happens to be the one supplied, which I don't think it was for any of us! And the paint brands are different, as well. We artists like to stick to what works best for us. Another challenge. Then the call went out: Artist pick up your brushes. And we had 20 minutes. A reminder went out at 10 minutes. I stepped back. I was done. I looked at the friends stand behind me and shrugged my shoulders, questioning my wisdom, but they agreed. Stop now! one of the audience shouted at me.
With a room full to the brim of spectators and supporters, my nerves calmed as I realized I was finished. Whatever will be, will be. It wasn't half bad. :- ))
I changed out of my painting clothes, not expecting to need them for the final round. Then the voting started and the winner of round one was announced. My goodness, it was Monika Wright! To say I was shocked is an understatement.
Two more rounds took place, and then the final round was set up with 3 easels, the winners of the previous two rounds and me. Bigger canvasses this time. Less panic, because I understood the process, but still. The painting frustrated me more. I used too much paint and didn't stop soon enough, but after the voting was done, there I was standing as the winner of Halifax Art Battle 47.
Now it's on to the next round on June 22nd. For those of you who are local, I want you there! I need your energy to support me and help me get through to the next round in Toronto. That would be a blast!
To all those who organized the event, who attended and to the artists who painted with me, a huge big thank you for opening new creative pathways for me.