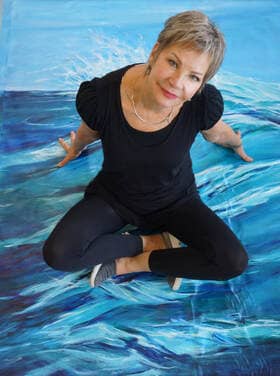 Canadian artist Monika Wright creates expressive abstract paintings that reveal dynamic elements of color nuance, of magical light that glows amidst the darkness, of brushstrokes that are both wild and gentle, conveying movement and mindfulness.
Leaving Toronto for a new life in Halifax, Nova Scotia in 2005, Monika rediscovered her passion for photography and painting. She developed a distinctive style, which lead to recognition locally and then internationally with artworks included in private and corporate collections throughout Europe, North and South America. Among her awards is the prestigious Mary Pratt Crystal Award, for the Canada 150 - 2017 SCA Exhibition.
Monika is represented by galleries in Canada and also participates in special exhibitions worldwide. Her work has been published in Arabella Art, Architecture and Design Magazine, in Literary and Medical Journals, International Women Celebrate, Enroute Magazine, Exposure, Echoes of Elizabeth Bishop, CBC Sharing the View, Arts Illustrated Magazine and The Breath of Life. 
Monika is an elected member of the Society of Canadian Artists (SCA) and a member of PCAFA. She has received numerous awards in both Canada and the USA.