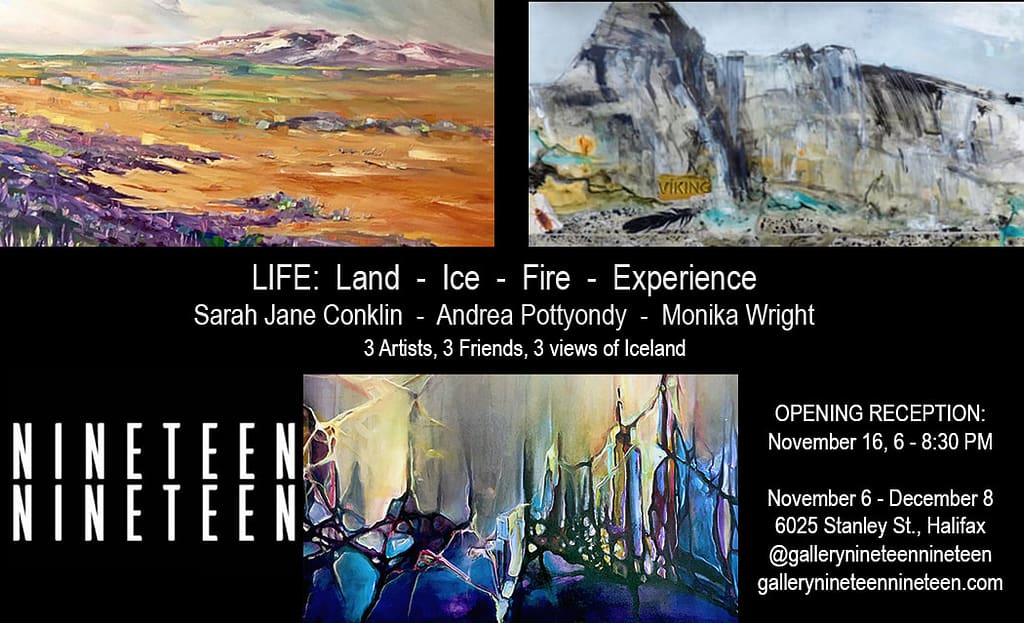 THREE ARTISTS – THREE FRIENDS – THREE VIEWS OF ICELAND
An Exhibition by Monika Wright, Andrea Pottyondy and Sarah Jane Conklin
_____________________________________________________________
The vast landscapes and expansive ethereal panoramas impose themselves upon us, visitors to this island nation, Iceland. The natural environment here is as much a source of pride as it is something to be respected for its power. It is a land of stark contrasts: Hardened lava, its jagged lines intercepting the smooth flow from active volcanic eruptions, creates dark land masses covered in brilliant moss and fields of wildflowers; rivers and pools boil with sulfuric waters blasting from the ground, burning the edges of fertile pastures where sheep and horses roam freely also while provide clean energy for comfort and recreation; spectacular shades of green and blue icebergs float in glacial lakes where vast tracts of ancient ice is disappearing more rapidly than ever before . . . and still the clear blue skies reach up into the distant darkness where city lights are rarely seen. LIFE is the painterly interpretation by 3 Artists, Sarah Jane Conklin, Andrea Pottyondy and Monika Wright, who visited Iceland in 2016 and came back to Nova Scotia, Canada feeling the power of the land and its influence upon strong, determined people who make it their home.