Have you noticed how many people are turning to long forgotten crafts these days? I see rug hooking, knitting, sewing, baking and other crafts making a sudden resurgence. My goodness, even macramé is coming back. By Spring time, I predict we'll see a lot of tie-dye T-shirts. So what's going on?

We're filling our days with the things that soothe our daily lives, activities that bring us comfort and wash away distress. We are learning to take care of each other and ourselves and . . . making some really awesome stuff!

As the Holiday Season approaches, you have many options for the gifts you choose for your loved ones. ​
---
​You could order something online from a big retailer, or you can decide to support a local maker of something as unique as the person you are shopping for, something that shows how much thought you put into knowing what would bring joy and comfort. 

In Nova Scotia, we are particularly fortunate to be surrounded by so many talented artists and artisans. You may be one of them yourself! Sharing what you have made with your own hands – what better gift could there be? But in case there's more on your shopping list than you can conjure up, please know that your support spreads the love in many directions. Never minimize the difference it makes when your purchase is passed on as a gift. There are meanings beyond words that will live on from generation to generation. You'll be 'Making Memories' and isn't that what the Holiday Season is all about? 

Most of all, this Holiday Season, may we focus on that which matters most in life. Our undivided attention towards loved ones, being fully 'Present' (whether physically or digitally), is the best Present we can give one another. 
Wishing you a peaceful and joyous Holiday Season.
​May your cups be filled with warm cider, eggnog and Love!
---
Art Works and Gift Certificates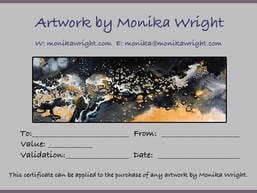 Taking the time to choose an artwork for someone special in your life is a very personal way to express your love. Sometimes it's hard to know what someone else might like. You can look around to see the kind of works they already have in their home, see if there's an artist or artisan they follow on social media – or be direct and ask what they might like.
​
If you'd rather give a gift certificate, along with a personalized note, that's also available in any denomination. Just send me a message or call and we can make it happen. A gift of art will last forever, and yet never get old.