I live in paradise, on a lake with views that take my breath away every single day, no matter the season or the weather. The fog rolls in and then lifts slowly to reveal layers of islands against a wide expanse of sky and water. Or the faintest whisper of a cloud streaks the perfect cerulean sky, reflecting like a mirror at my doorstep. I enjoy it all year long, but mostly, I anticipate those warm and sunny days when I can kayak and swim and be the water nymph I dream of being on the cold and dreary days of which we have far too many in Nova Scotia. 
​
So when summer comes along, I want to make the most of it and be outside whenever possible. That means that studio time is a little less, but I promise you, I make up for it during the rest of the year. From Autumn to Summer, early mornings can turn into late evenings in the studio with barely a break. ​
Oh, did I say 'break'? Wel, that takes me to the gist of this little article. I was heading to the lake for a swim after a few hours in the steamy studio working on some representational style paintings for'Deeply Rooted', a group show at the beautiful Lunenburg Art Gallery, opening August 27th and running to September 29th. One minute I was walking upright down the steps to the lake, and the next I was tumbling like a bowling ball down the stairs. So the good news is that it was just my clavicle, and it will heal. It could have been worse. I didn't break my arm or smash my head. The bad news is, that's my painting side and there's no moving this shoulder away from my body any time soon. 
Drum roll for the invincible artist who finds a way: Painting with my left hand was much more fun and interesting than I imagined it would be. My brush strokes aren't tight and controlled. They are loose, but still intentional and energetic, maybe even more energetic than the paintings I've been making lately with my right hand. There was a certain 'Come what may' fearlessness in applying paint to canvas with my 'other hand'. There were no expectations of 'perfection', no self-imposed pressure to conform to a style. There was just curiosity to see if I could actually do it. And then I realized something else, those loose wild brush strokes were a lot like the ones I made a few years ago, before I planned for exhibitions and painted to expectations (mostly my own). I like what I created and even more so, I enjoyed the process tremendously. I surprised myself, and that doesn't happen every day!
I've had a glimpse into the past and into the future simultaneously. I've been wondering where my art would take me, how my style would evolve. I still wish I were swimming, but in the meantime, painting with wild abandon is a lot of fun.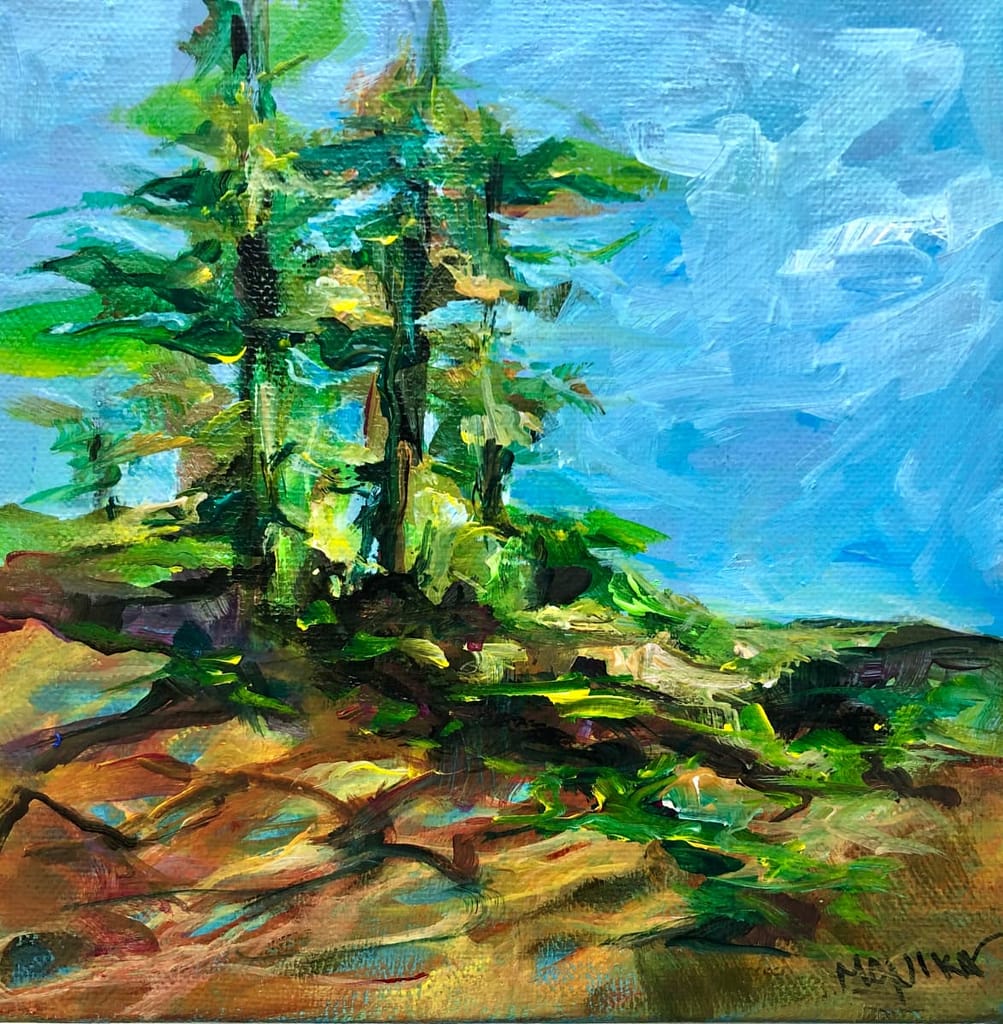 These are a couple of the small paintings I did with my left hand, and the big triptych is one which I completed with my left hand. They'll be amongst others included in the 'Deeply Rooted'show featuring paintings by Helen and Alan Spinney, sculptures by Franz Fraitzland paintings by myself, of course.
"Deeply Rooted" opens at The Lunenburg Art Gallery on August 27th and runs to September 29th. Opening hours are 11-5 pm, with an evening Opening Reception on Friday August 30th, from 5-7 pm. We look forward to meeting you there!