Foremost in my mind and heart at this time of year is the feeling that I am grateful for all of the friendships that life has gifted me, the family that loves me and supports the paths I choose, and this world that inspires me with all its wild and natural beauty. 

I am one of the fortunate ones. I was born into a life that has not seen a lot of hardships like the lives of those who have suffered wars and famines, crimes against humanity or personal health challenges. I have had opportunities, both given and created through the choices that I've made. And for this life, I am grateful beyond belief. Truly, I sometimes pinch myself in awe – you should see the bruises! (smile)

Along with that sense of wonder is an equal measure of responsibility to share my good fortune with others. Giving one's time is a most precious gift, making space for those who need to share their thoughts, need a friendly face, shoulder to cry on, a helping hand, a smile. And that, I believe is what this 'Holiday Season' is about. Regardless of one's religious or spiritual beliefs, I think we can all get behind the intention to make the world a better place by giving from our hearts, not just our wallets, giving from a place of compassion.
AND HERE'S THE GIFT FOR YOU!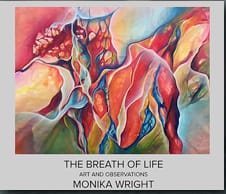 A few years ago, I created a book 'The Breath of Life' which was simply a portfolio of some of my art and observations on life at that time. I'd like to share that, as my gift to you, to uplift you and lead you in the direction of an open mind and an open heart. May it inspire you today, and all year long to share your own gifts with the world. And speaking of sharing, feel free to share this PDF. It's yours to enjoy.
One more thing: This year I built a new 600 sq. ft. studio overlooking the lake (see, there's another pinch – ouch!). I'm planning on sharing the space for a long-weekend retreat of painting and fun, just a very small group with accommodation available here. It's still in a development stage, but if you have suggestions or are interested in participating, feel free to send me an email. 
Wishing you all a Loving, Peaceful and Fulfilling Holiday Season. May your hearts overflow and spill kindness into many others. ​